Home page
Size:1800px(w) X 494px(H)
Price: Price: ₹50,000
Aajjo intends to promote your brand or products by placing a banner ad on the homepage. The purpose of this ad is to entice visitors to click on it and be directed to a specific product or page, resulting in an increase in the number of visitors to your catalogue. This marketing effort is anticipated to generate positive outcomes for your business, such as growth in inquiries and sales of your products.

Product Page
Size:270px(H) X 270px(W)
Price:₹10,000
Aajjo intends to promote your banner on the catalogue pages, thereby enhancing its visibility to a greater number of visitors. This strategic move is aimed at diverting more traffic to your catalogue, which in turn will positively impact your business by increasing sales.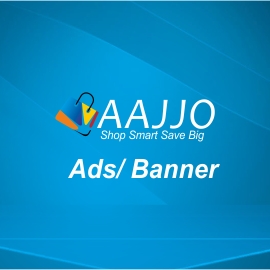 Contact us
If you are interested in our offers or require further information, please do not hesitate to contact us via the following means:

E::info@aajjo.com, Support@aajjo.com
P:9711550185

You can also request a call-back, by filling out the below-listed Request form.
ASK FOR CALLBACK
If you are interested, please fill in the below details:
Our Videos
Grow your business
About Aajjo.com
Services/Features
Packages / Membership plans